those hollywood kids, those hollywood kids got it made.
This past year I've adapted the "why not?" mentality and this was no exception during my trip to California. There are of course things in life to be fearful of, but taking a chance of looking stupid is one thing no one should be scared to do. We are only on this earth for a short time, might as well spend that time living the life you want to live. Why not sip a all-you-can-drink "strawberry mimosa" at 1pm on a weekday at the famous Saddle Ranch on Sunset Boulevard?!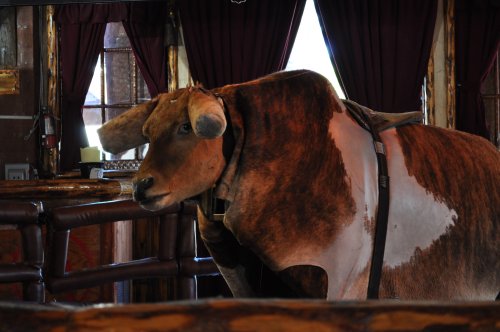 That bull was really intimidating and my waiter was really persuasive(and really cute and so Hollywood which kind of became my catchphrase on my trip) so against my better ladylike judgement, I got on the bull…

And that is literally the only photo I can and will show on the internet because I am a lady and I was wearing a dress and although he offered me pants to wear that he ended up not having, he gave me bright red SR panties that I put over my Spanx(I don't even usually wear them) so in all the other pictures the red panties are clearly visible. But besides that I rode that bull like a champ and it was REALLY fun and I didn't vomit after my 4-5 mimosa's. And I can safely say I am most likely the palest and only person to ride that bull in a vintage dress. ♥
Same outfit as the entry before but anyway..
Wardrobe:
Red and black dress – Vintage(I've posted it before)
Brown Bakelite/Lucite bracelet – Vintage
hearts, meg