The Good Internship
My Moms Swedish Dad, my Pop Pop worked in computers for the aerospace company, Grumman that was here on Long Island. He was technologically savvy and also loved taking family videos. On Halloween day in 1994 he finally let my big brother Shanon, for what we believe was the first time step behind his camera and film. That film footage was of me dancing around in the Belle costume my Mother made me. Shanon ended up going to film school when he was older, interned for a sound company while at school and ending up becoming a television editor. I guess you can say the love of film and that kind of creativity runs in my family. Ever since I earned my associates degree online in fashion merchandising from The Fashion Institute of Technology and entered the bachelors program, I was excited for the day I could begin the search for credit internships which was necessary for my degree. A few years ago
I toured Warner Brothers studios
and saw costumes, movie sets and Conan O'Brien's parking spot up close. Combine that with a deep love of
Halloween
and dressing up as mostly film characters I had the goal in mind to get my internship in costume for a television show. As a HUGE Conan O'Brien fan I especially longed to spend a semester in California and work in the costumes and props department alongside Bill Tull 😉 I wanted it so badly, I literally had dreams about it. But while I have my brother and his family in CA, putting my degree on hold for a semester and the planning behind that with a slim chance of actually getting the internship, wasn't going to work itself out. But luckily FIT had a few connections in the TV realm of costume and before I even met my internship counselor I let my intention be known. I wanted an internship in costume, I wanted to learn the process of script to screen and most importantly for me I wanted to learn how they sourced the fashion and hopefully vintage! Luckily I had an incredibly awesome counselor and she rallied for me sending emails to companies. I had to narrow my interests down to 2 companies which for me were two television shows. But I didn't hear back from either of them and began searching elsewhere. As an aquariums I am a natural born settler, I'll usually settle for less than I deserve but for once I was confident in telling myself that if I didn't find something I loved, I would wait because I did not want to waste my one internship opportunity. Not to mention I commute very far from Eastern Long Island just to get to my classes in NYC, so I really have to want to be there! I had a couple interviews set up including one in NYC for a huge sporting company in eCommerce. I had zero interest in going on this interview but my counselor thought I would be a good fit so I gave it a shot. I remember it felt like 10 degrees out that morning and getting on a train with the morning rush for an interview during winter break was torturous. But despite being completely out of my element being a vintage loving gal in a sporting world(lol) and terribly anxious in interviews I felt so great about myself after the interview I had with the people that worked there because for the first time in my whole life, I could dork out about eCommerce and they applauded me for my knowledge! I was actually reconsidering the whole television internship because I was positive they were going to choose me despite having a not as great interview with someone different afterwards, but later I heard back I hadn't been chosen. But as one door closes, another one opens and I received the phone call from my #1 choice, a costume internship at the television show, The Good Wife. And funny yet luckily enough, I hadn't even interviewed with them.
First day on the job and of course we park outside stage number 11…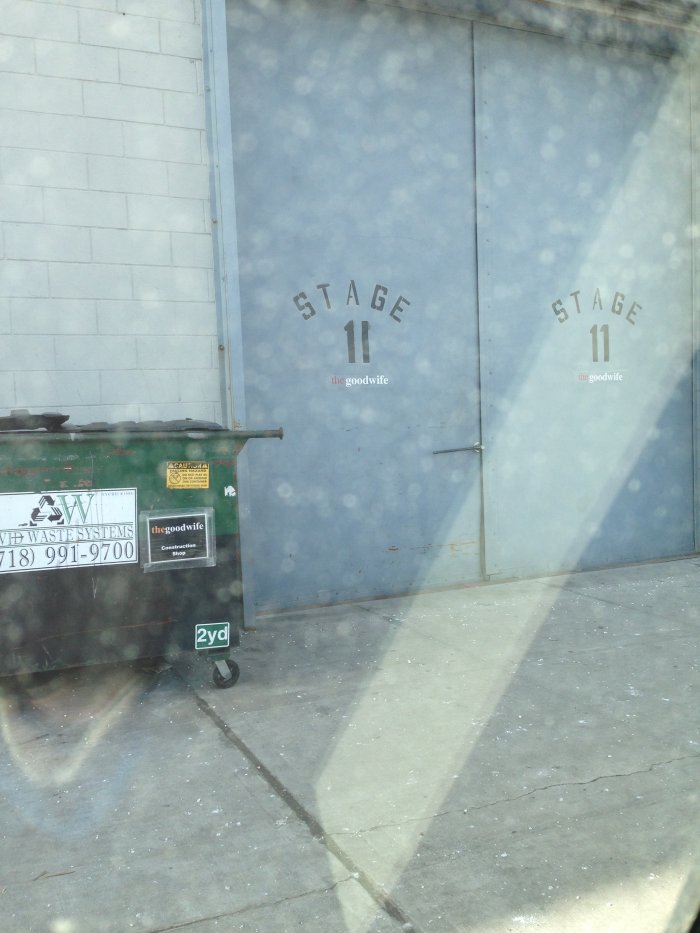 I've been writing some more personal blogs lately and one of the reoccurring themes this year is asking the universe for what you want. In this case it was that I wanted to learn about the television and costume industry. Literally on my first day, I had many of those answers. I made copies of costume receipts for the accounting department and I learned where they sourced the wardrobe. I ran around the city with a production assistant and learned even more about sourcing and about studio services and the hard lesson to never wear 5″ heeled boots ever again ;p I also met my fellow intern that just happened to be a blonde, FIT student who is from Sweden! What are the odds! I feel so lucky to have been an intern when I was because perhaps the biggest plot turn and death of a character ever on television happened right when I was there! One day I was invited to go on set and watch a scene being filmed at Lockhart Gardner. Alicia enters the scene crying and Diane and her embrace, crying together. From this scene I put 2 x 2 together, I knew they had killed off Will. I hadn't been a fan of the show until my internship, but if there was one person on the show I knew of and liked, it was Josh Charles. Don't Tell Mom The Babysitter's Dead is one of my all-time favorite movies and it was a big influence on me growing up, but if he was dead that would mean I would never see him in person, so I was upset for different reasons than the audience would soon be! But alas I kept the scene a secret knowing it would be a huge shock and just told friends & family I got to go on set. Not long after that I was invited to a meeting for a new episode. I had just barely finished my lunch when I rushed upstairs with the costume designer, Daniel for the meeting. I almost died when I took a seat and looked up and saw Josh sitting at the head. I was regretting the kale salad and felt it stuck in my teeth and had images of Don't Tell Mom playing in my head, I was so happy to learn I was wrong and that I did get to at least see him and learn that he was directing an episode! His episode was probably the one I knew the most about, I saw the original meeting, I got to sit in on the costume meeting and I knew some of the costumes from script, to shopping, to fittings. Every day was different I never knew what I was going to do when I entered the door everyday and I found that very exciting! Some of my favorite memories are running around in the company car with the PA's and going out to lunch, watching Danielle a costume assistant shop for looks, running wardrobe to the truck including one special day when I got to walk Michael J. Fox's shirt, formally meeting Josh/Will and helping outfit him for Letterman, going to studio services and assisting on set one day and running back and forth to the truck for shoes for the background actors.
Beginning to look like I fit in a little…thankfully my sister sent me Sorel's for my birthday, I would not have made it through the snow and ice in Brooklyn without them..


My lame smiley self on the train ride home the day I formally met Josh…

I think the biggest thing I took from my experience was a deep respect and appreciation for how much work, thought and how many people are responsible for just one episode of a television show. Having witnessed Daniel Lawson and the costume assistants excellence has in turn made me more appreciative and also critical when watching other shows and watching the costume choices those shows make(see example). It was the hardest and funnest thing I have ever done. The hardest part being commuting almost 3 hours each way to get there, in a terrible snowy winter, on NO sleep care of anxiety that I wouldn't wake up and on thyroid meds that made my heart race far too quickly after going up a set of stairs(I am aware I sound like an old lady and in many ways I am haha). But despite all of that I made it through and I had a better experience than I ever imagined. I will never be able to put to words just how much of an amazing experience I had and how thankful I was to have worked with the great people I did, I learned so much so I will just put it like this, I was so sad to leave on my last day that I cried on the F train on my way back to Penn Station.
If your life is anything like mine, nothing comes easy. It took me 7 long years, getting a associates in business and settling applying to a online degree in fashion merchandising just to get into FIT. But if you want something badly enough, you work towards that goal and do whatever it takes to go after it. I would go through all of it again and again to get the end result I did. I am so pleased that since this experience I have knowingly sold vintage to at least one television production which has made this kinda come full circle for me. So, the moral of the story is, go after your dreams, dolls!
hearts, meg
Ps. Fun Fact- Grumman is now partially used as Grumman Studios and is the location of the live Broadway musicals, The Sound of Music, Peter Pan and I also drove past when The Amazing Spiderman 2 was being filmed there. I think Pop Pop would have thought that was pretty cool…cooler if his granddaughter worked there. So I'm just gonna put this out there…hey Grumman Studios I'd love to work for you 😉 😀