Stop, look and listen baby that's my philosophy.
"Well lawdy, lawdy, lawdy miss clawdy" I have not updated this blog much this year, demerits on me for being negligent! Anyway, this years ElvisFest 15, my 4th 'fest in Lake George, NY was the best one yet! This years ElvisFest blog title is a lyric from the song Rubberneckin', it has been a running joke between my Mom and I ever since we heard someone on SiriusXM ElvisRadio declare that it was the "best Elvis song ever" we do not agree and laugh at their taste in song but not the artist.
Day 1
Elvis '56 concert starring Cody Ray Slaughter
This concert was a step back in time to a young Elvis just starting his career…which as a 1950's loving gal, my favorite songs are the earlier ones.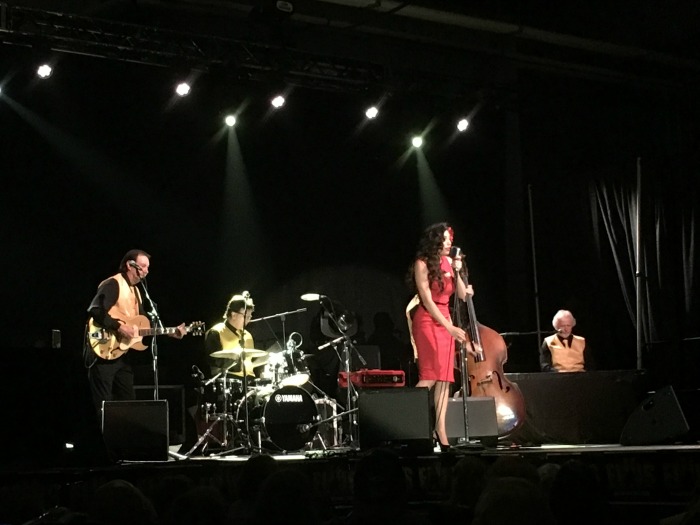 What a joy that Cody Ray..
Wardrobe: Dress- vintage ♥ Jacket – DIY'ed by me with RIT Dye on a JCPenney white jean jacket and a vintage Elvis patch I purchased from Poison Apple Tacoma and hand sewed onto the back ♥ Faux Wood Heels – Bamboo ♥ Jewelry – vintage
Day 2
Elvis aboard the Adirondac with Michael Chambliss and Ted Torres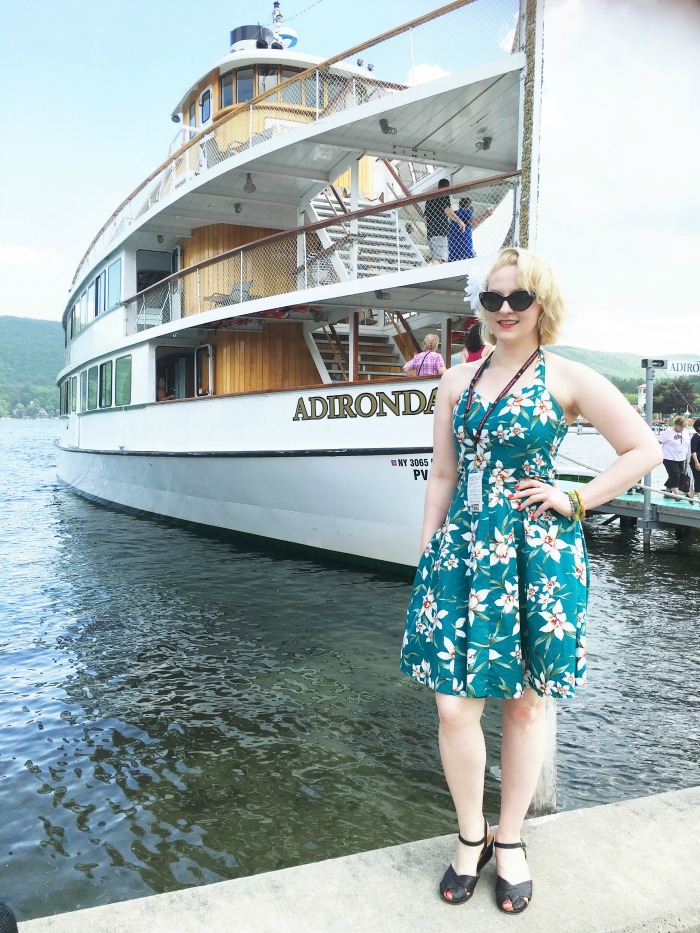 I had a really weird moment on the boat where I thought of my Nanny(Mom's Mom) and had this overwhelming thought in my head of her and her liking the song that was being played. I then thought of her standing on the upper deck, not sitting with us, smoking with a drink in her hand. After the song ended I shared this with my Mom and she revealed that my Nanny had liked that song and that she must have been there with us, appreciating what we were doing together. I then spent the next song holding back tears at this revelation/visitation. Here's me and my Mama sometime after that..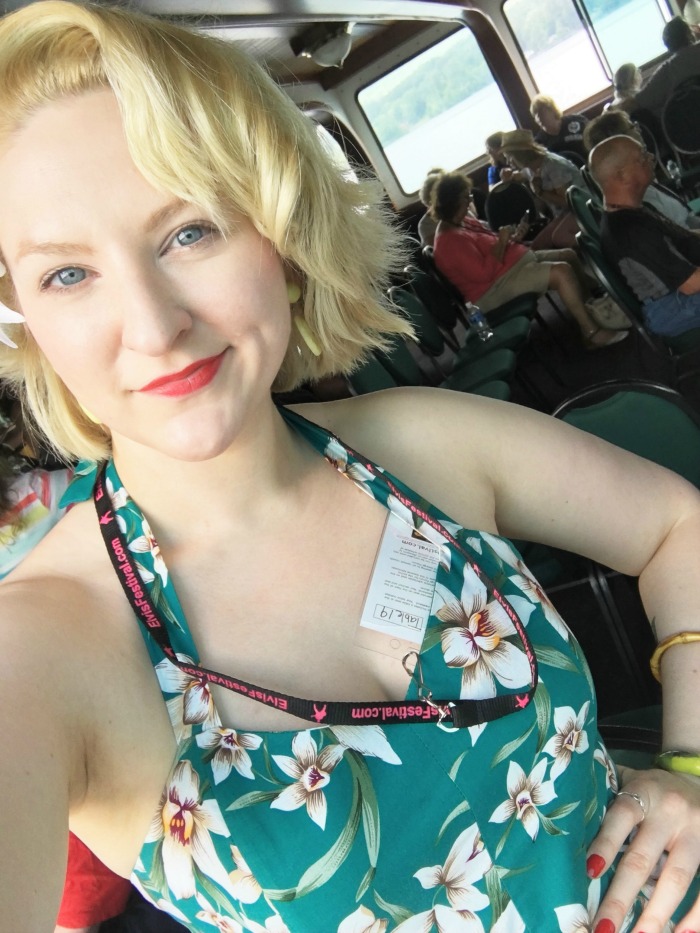 Meeting Michael Chambliss, he told me his wife thought I looked like Marilyn Monroe, I said "thank you, that's a big compliment coming from her!"
Jukebox LIVE: Tribute to Rock and Roll History Concert
This was my favorite concert ever in all the years I have been going to Elvisfest. It was just so much fun from seeing Dwight as Elton John to Ted Torres and Dean Z as The Everly Brothers(I still swoon and think of them whenever I hear the real thing)! It goes to show how talented these performers are to be able to transform themselves into Elvis and these completely different historic artists!
Robert Washington as James Brown

Dwight Icenhower as Elton John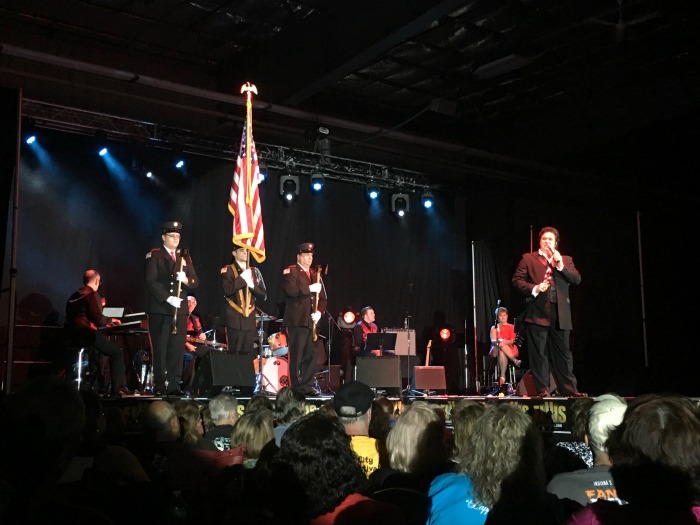 Watch the video of Mr. Icenhower performing "The Bitch is Back" as Elton John
here
or below!
Mark Gagnon bringing me to tears singing "
Ragged Old Flag
" and honoring veterans as Johnny Cash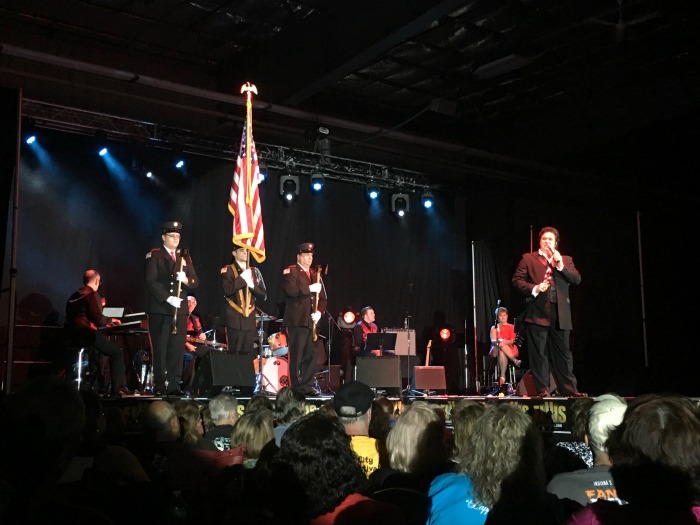 Samantha Chambliss as Marilyn Monroe bringing me to tears laughing
Wardrobe: Dress- vintage ♥ Hair Flower – handmade by me ♥ Jewelry – vintage ♥ Sandals – repro vintage
Day 3
I save my "big guns" new ensemble for Saturday when the whole day is spent taking in Elvis performers throughout Lake George during the day and for the last professional concert at night. This years ensemble included a killer new vintage fabric Elvis record skirt!!!!!!!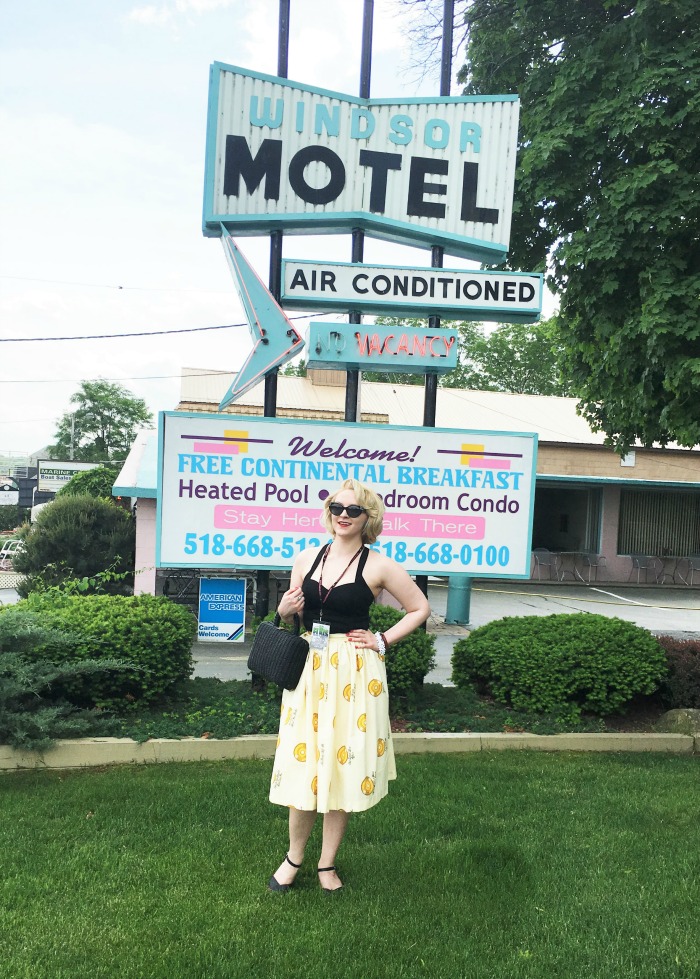 Saw my first Lady Elvis!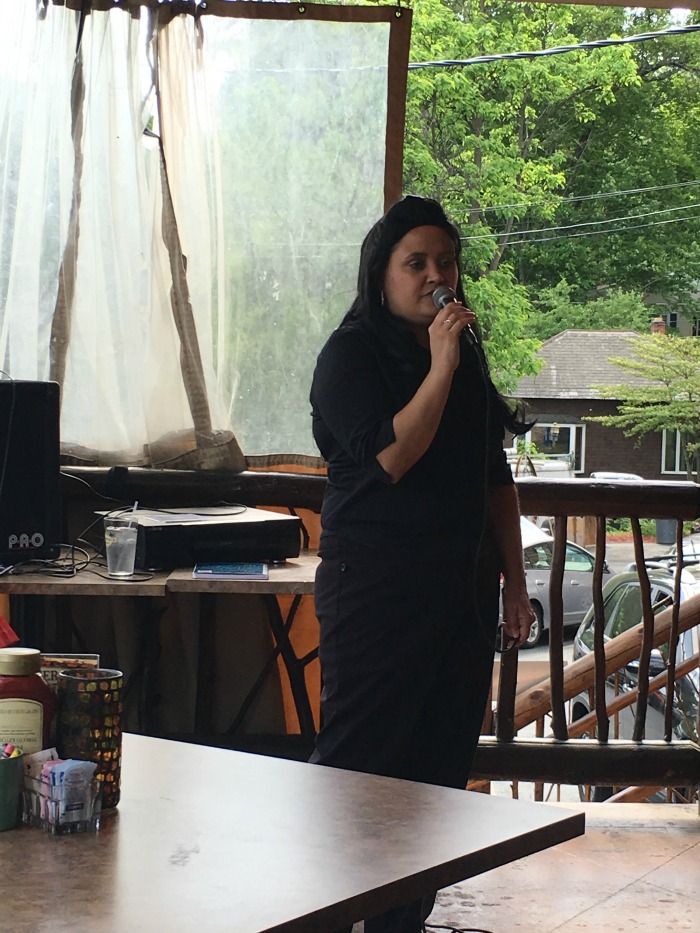 Frozen strawberry daiquiris with dinner❤️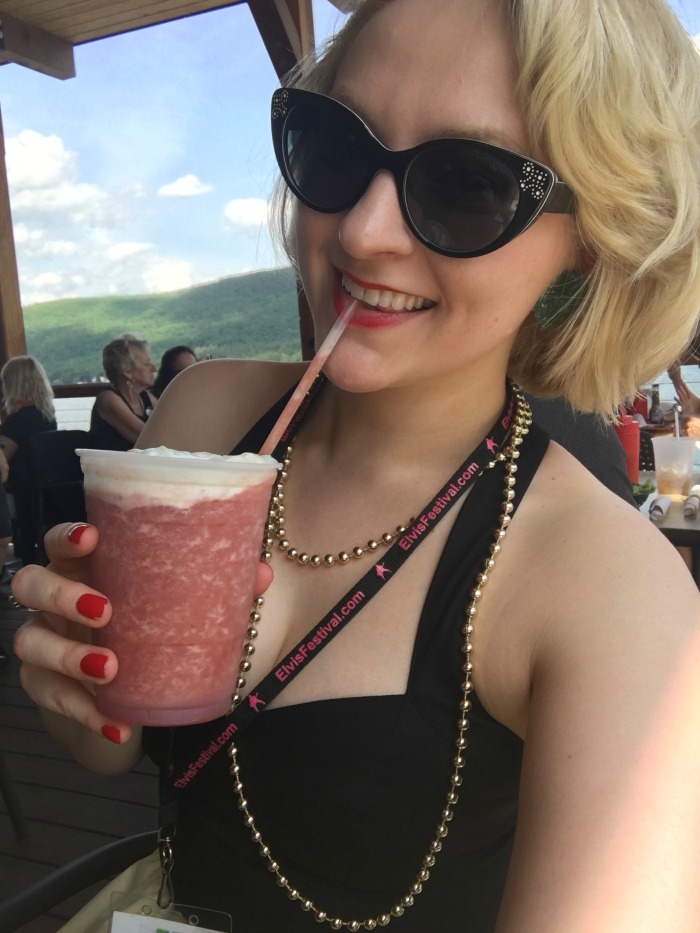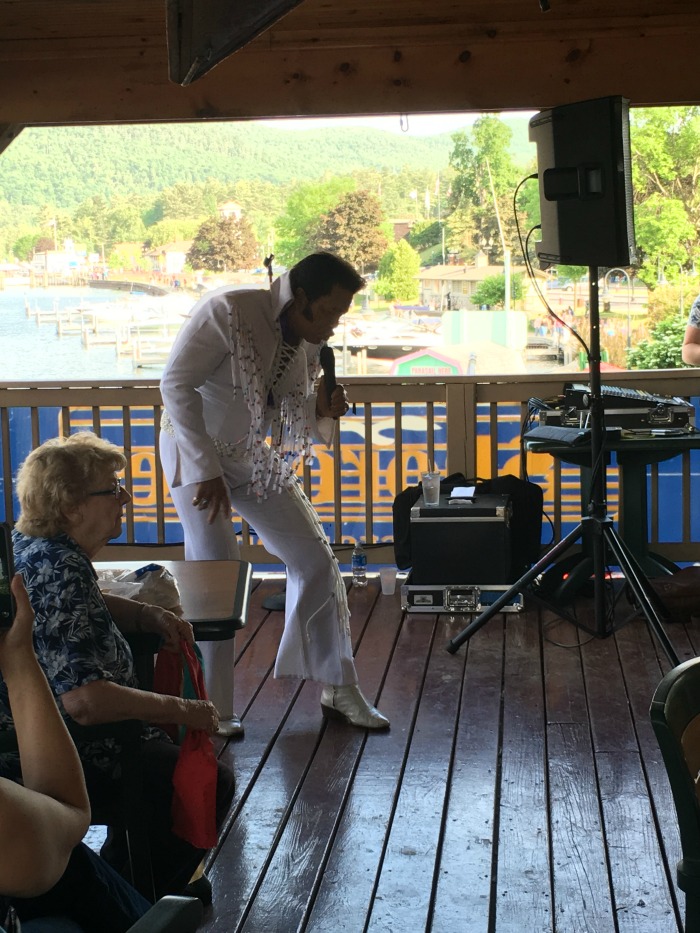 The best moment of my lonely, miserable life….just kidding it's the most action I have gotten in years, just kidding, just kidding….the best moment of my Elvisfest, getting a kiss and sash from Mr. Robert Washington…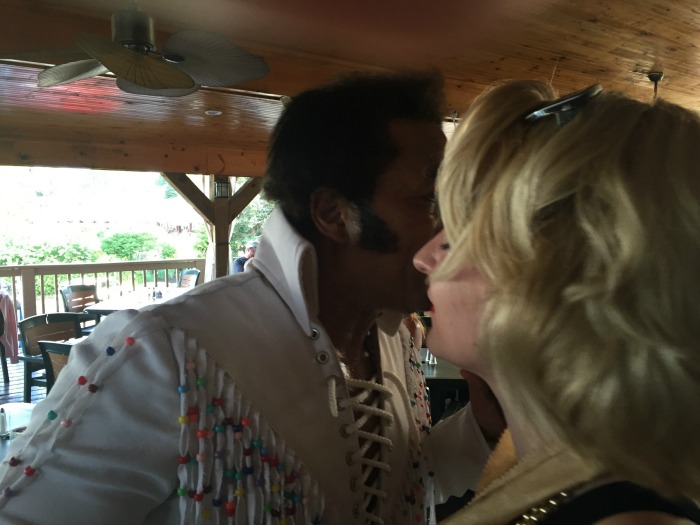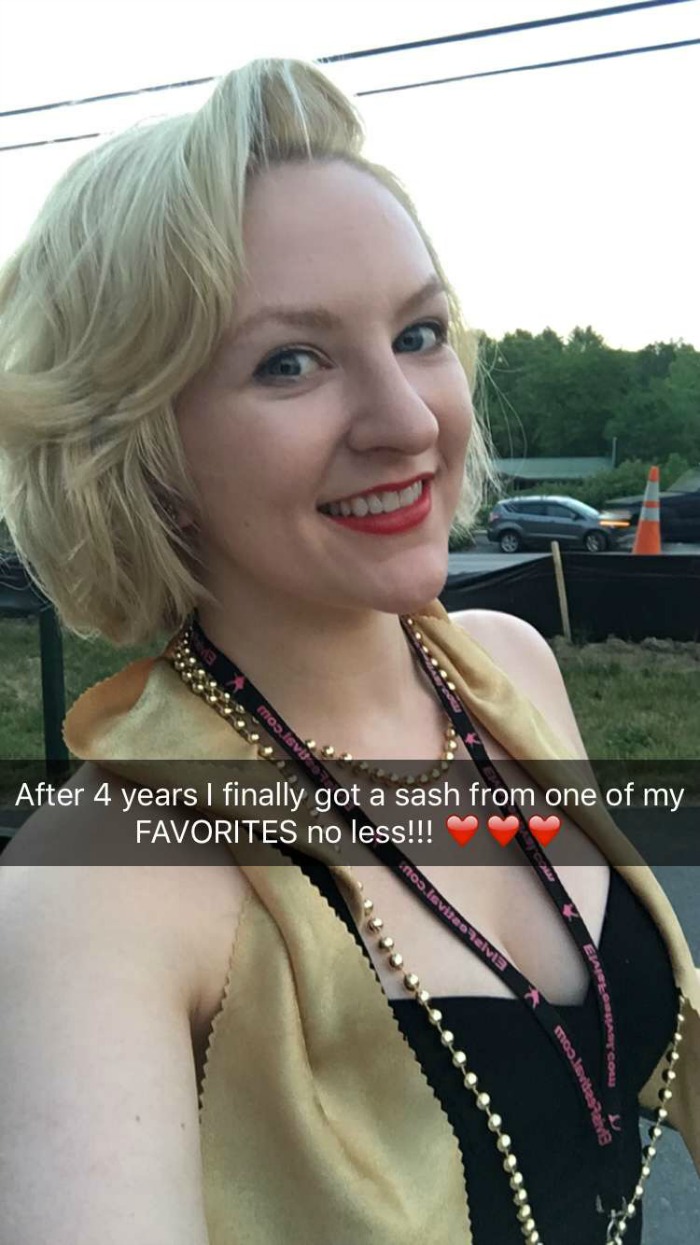 School of Rock's First Class Concert
Dean Z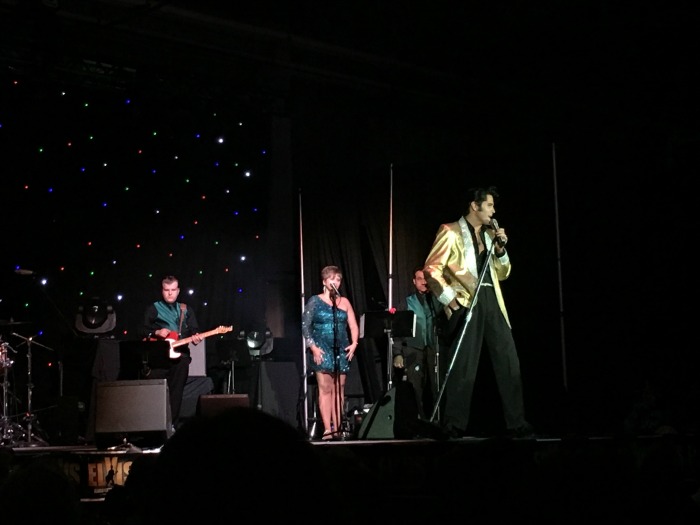 Watch my video of Dean Z performing "Spinout" as Elvis Presley and going into the audience
here
or below!
Dwight Icenhower who does the best version of "Such A Night" EVER and made me think I was actually seeing Elvis in 2014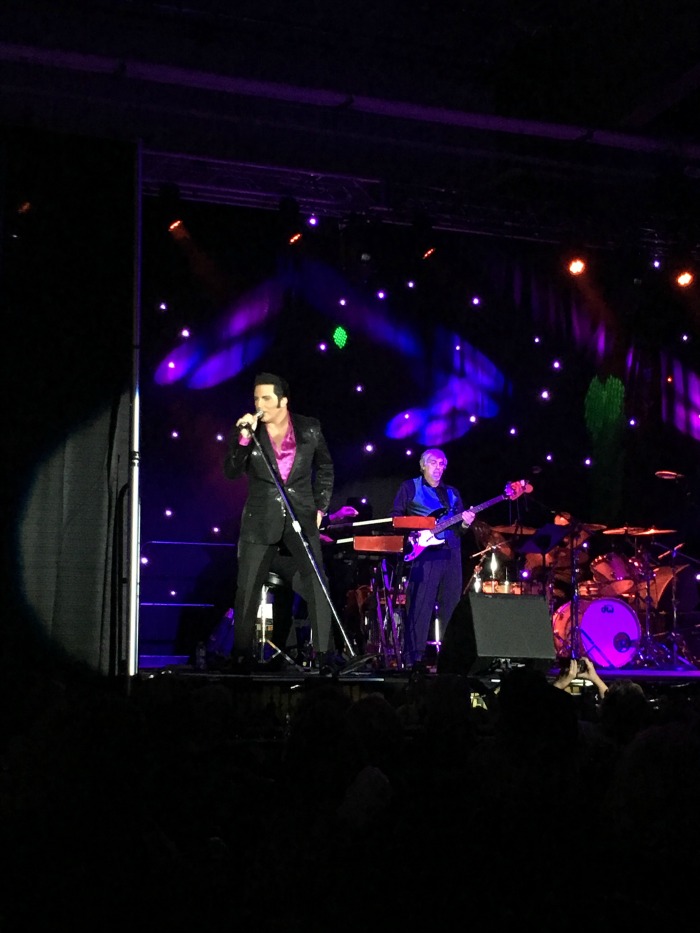 Wardrobe: Black top – Pin Up Girl Clothing ♥ Vintage Elvis record novelty print skirt – handmade by Nicole Elaine Vintage I love this skirt so very much ♥ Sandals – reproduction vintage ♥ Sunglasess – Ralph Lauren ♥ Jewelry- vintage ♥ Wicker purse – vintage
Day 4
Day 4 was a short day for us as my brother and his family was arriving from across the country, but we managed to see the Ultimate Elvis Tribute Artist Contest Final round and got our votes in just in time for our favorite this year, Robert Washington.
Mr. Washington just so happened to get sent to Memphis to perform for Lake George due to some rule in the competition. His last performance made me teary eyed and grateful for such a wonderful Elvisfest 😀 He is just glowing here…

Like I say every year Elvisfest is the marker of "it's summer" for me, its the best part of my summer and the one time of the year I truly feel free, relaxed, have absolute fun dressing myself up more than I do on the daily and just feel free to be completely myself and in love with all the sights and sounds! I am counting down the months and days until next Elvisfest…
hearts, meg