One night with you, is what I'm now praying for.
Summer may kick off for most on Memorial Day but for me the past couple years it has been at the end of May during ElvisFest in Lake George, NY. This year was certainly no different than years past and my summer got kicked off in a dream filled land of Elvis', sunshine and fun! Unlike years past, this was the first time I wasn't in college and could get upstate earlier and see more of the festival, tribute artist contests, the nightly professional performances and after parties 😀
Day 1…swinging in the sunshine with my Mama
Wardrobe: Pink Gingham Halter Dress – 1950's vintage ♥ Jewelry – vintage ♥ Sandals – reproduction vintage ♥ Sunglasses – Ralph Lauren
Night one with Cody Slaughter at "Elvis Meets The Beatles"…that man is as close to Elvis as I'll ever see and every year he has just gotten better and better and he is just so funny and self deprecating even, he's become my favorite tribute artist for sure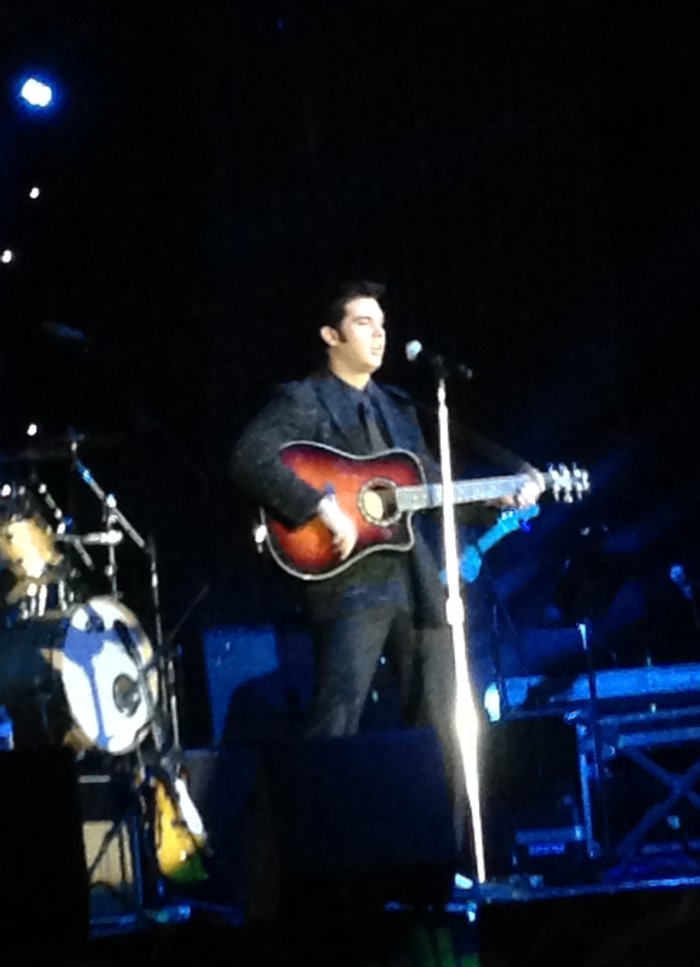 Cody joining The Liverpool Legends on stage for a Beatles song
If you like my pink gingham dress…check out a similar black version in the Storyland Vintage shop, doll!
Day 2….cruising on Lake George with Elvis'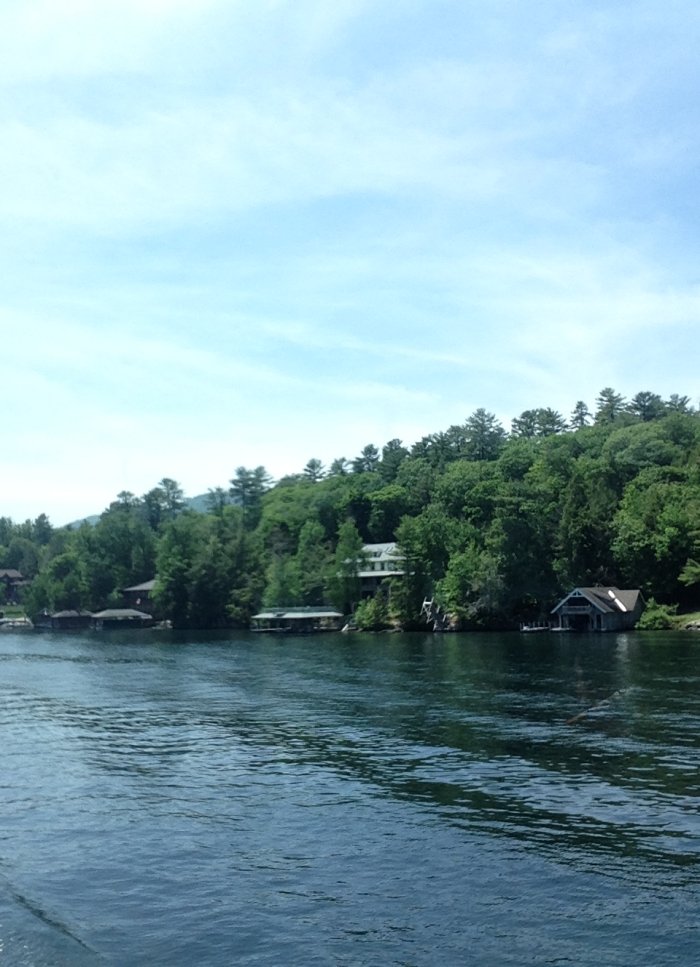 Last years winner, David Lee performed
Local Elvis, Joe Ramsey also performed
Enjoying a berry daiquiri after
Wardrobe: Black Tank – Victorias Secret ♥ Jewelry – vintage
Changed into my vintage Elvis dress for the night performance

Wardrobe: Elvis print Hawaiian dress – Vintage from Sophistihat ♥ Hair Flowers – made by me ♥ Jewelry – vintage
Day 3…wore my new Elvis print skirt my Mom sewed but unfortunately my back camera decided to die the night before and I didn't get a photo of my whole ensemble
But I got a selfie with Dave Weaver and it also marked the first time I was sung to while eating a hamburger

I was so happy to see Mori Yasamasa again and he even sang "devil in disguise" for me and I danced with him a little and probably turned bright red 😀 ;p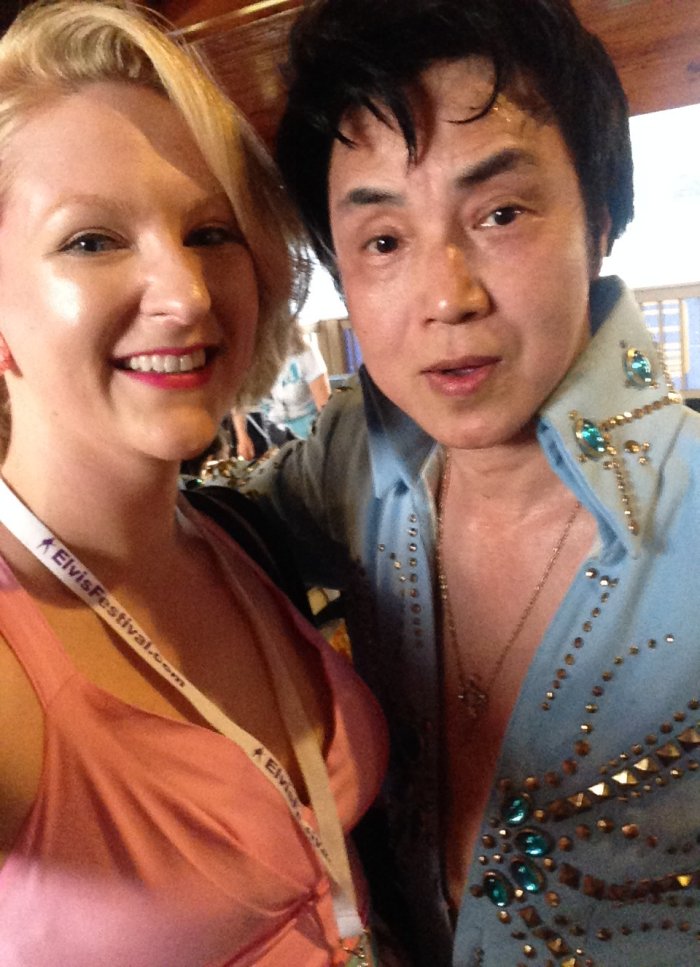 Mother/daughter selfie
Wardrobe: Pink Tank Top – Zooey top from Pin Up Girl Couture ♥ Cardigan – Forever 21 ♥ ♥ Skirt – homemade ♥ Hair Flower – made by me ♥ Jewelry – vintage
It went from 80+ degrees to 50 on Day 4 and I was ill prepared but pretended I was in Hawaii and donned my dress from last year. It's not hard to pretend its warmer when you are in tiki bar paradise…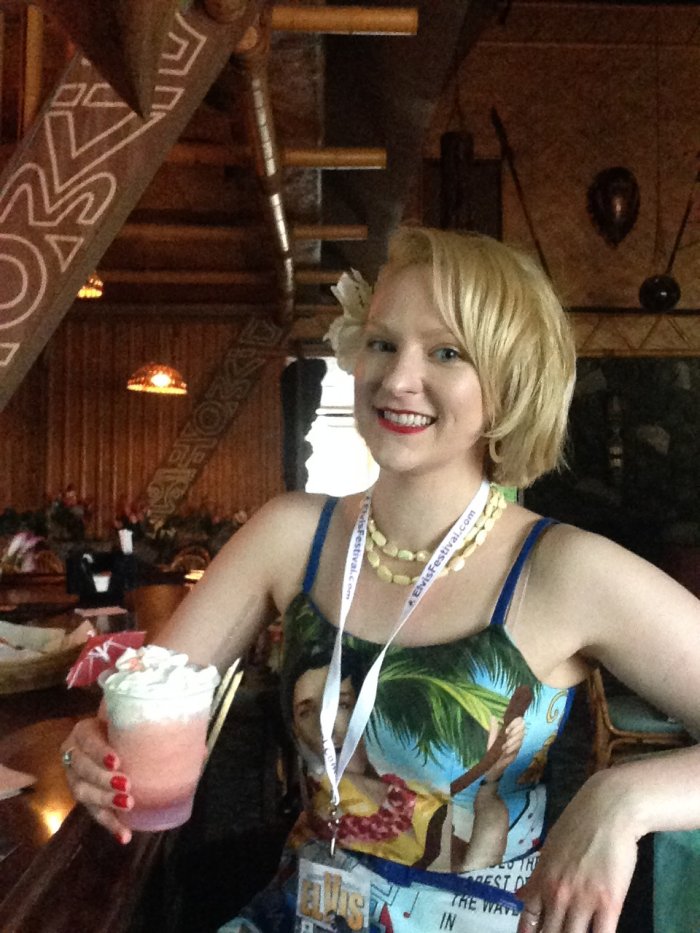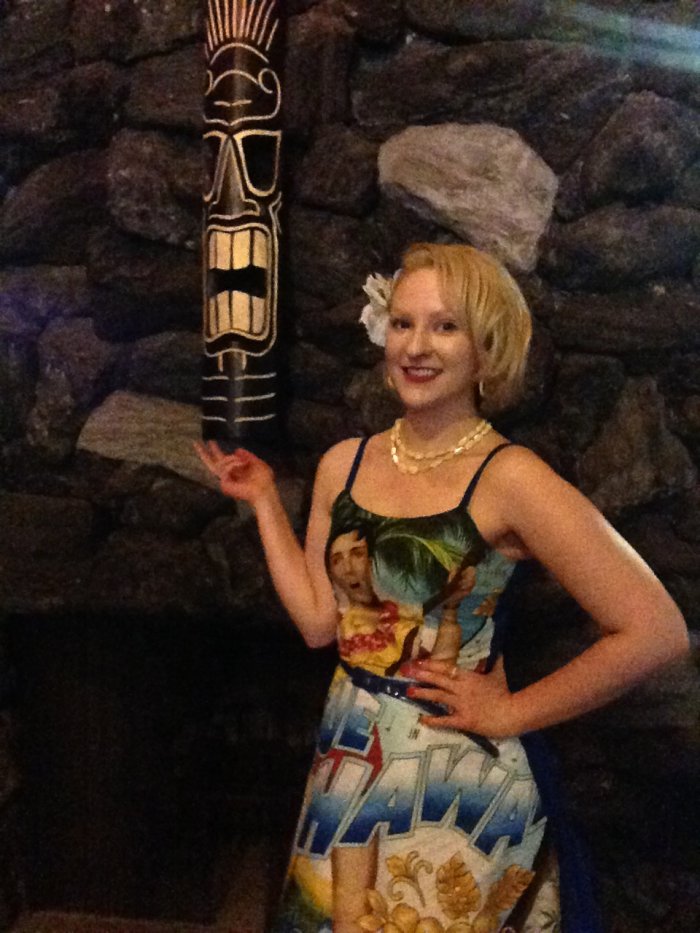 Wardrobe: Blue Hawaii Dress – homemade ♥ Hair Flowers – made by me plus an umbrella from my drink ♥ Jewelry – vintage ♥ Belt – Forever 21 ♥ Blouse – Forever 21 ♥ Jean Jacket – JcPenny
Dock selfies from arrival to leaving: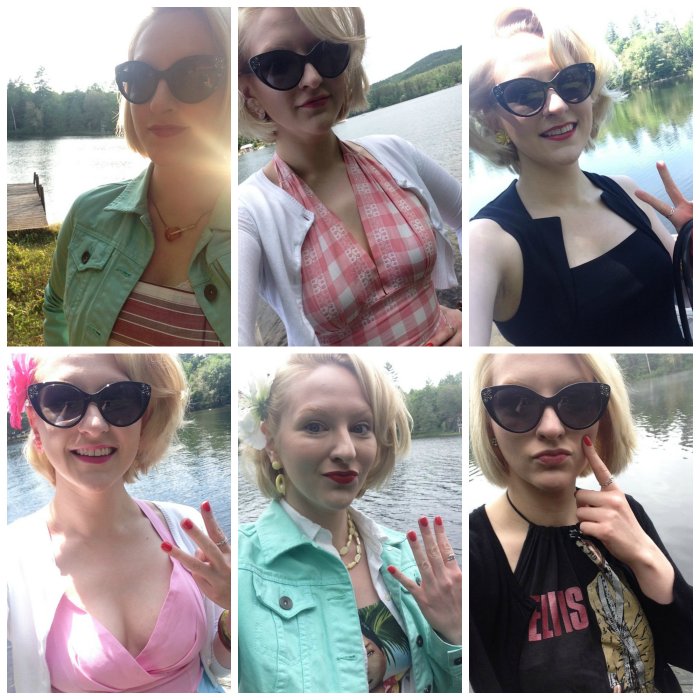 From my first and second ElvisFest to my now third, Elvisfest LG is always a blast and something I look forward to experiencing every year! The nightly performances were even more incredible than years past that my heart broke a little on the last night knowing I would have to wait another whole year to be there again. But alas, the king in the form of his tribute artists and fans may have left the building but they'll be coming back.
hearts, meg