MGMT Live on Letterman: Part 1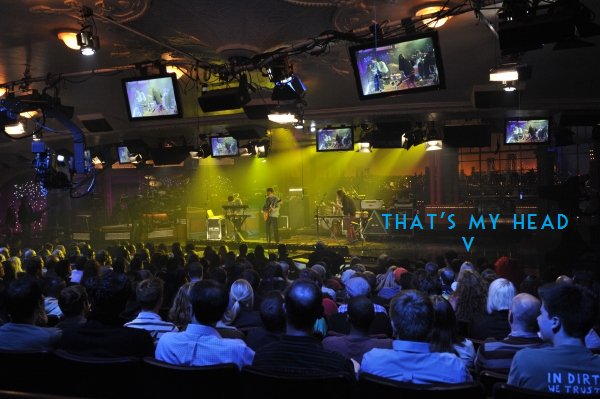 May 4th I was checking my email and I received THE email. The email that said I won 2 tickets to see MGMT at Live on Letterman the following week on May 11th. I screamed, I held back tears, ran to my phone and called my +1 Chad and he couldn't understand me I was yelling so loud. We had been hoping, wishing, praying we'd win especially since my fainting spell at Bamboozle put us far away from the stage. I was so thankful and amazed I had won especially since we LOVE Congratulations(anyone who doesn't can leave and read
this
). But then again the show was for May 11th, and we all know me and my 11..it was destiny;)
MGMT played on the regular Letterman show earlier that day and when that taping had ended we were already lined up way early for the Live on Letterman show. The show was live broadcasted on line at 8PM EST. Watch it
here
! We met a cool red haired gal on the line outside and she came and found us once she got inside. She was also at Bamboozle and even knew what Glitter Penis was, we were all nerding out which made the experience even better.
When we finally got to our seats and saw the Letterman set IT WAS SO SMALL. Television sure does make sets look bigger than they are and I guess celebs too! When 8PM rolled around they introduced the show with pictures of MGMT, the band introducing themselves and playing part of Siberian Breaks, as this was happening I was in such anticipation sitting in the audience that when I watched the show again at home I got excited. I'm going to be like Pavlovs dog whenever I hear it now and I will expect MGMT to come out.
MGMT played an AMAZING show and I had a total blast seat dancing and clapping with Chad and our new friend. I only wish MGMT played more from Congratulations and less from Oracular Spectacular and I wish Andrew knew that they don't have to play Time To Pretend anymore, the way he intro's it he lets you know he doesn't want to(but we already knew he didn't). When people in the back decided to stand up during the song I took it as giving the band support to get through the song or at least that's why I was. I wanted to stand once I sat down but I thought I'd get yelled at so we took to chair dancing instead which was actually entertaining and hysterical and I thought I would break the chair.
Apparently a photographer for WXRT radio found us entertaining too because I found a picture of the only close up audience pic on their website was of us:

More pictures of us I screen-capped from the performance…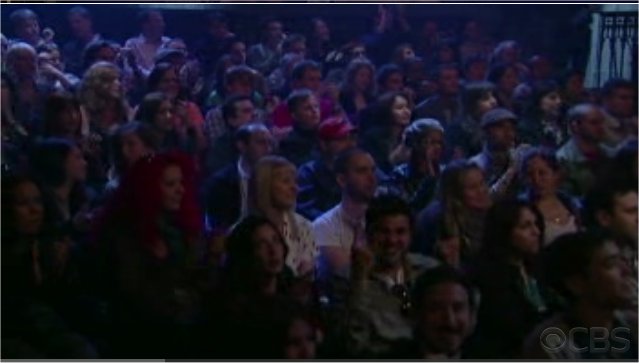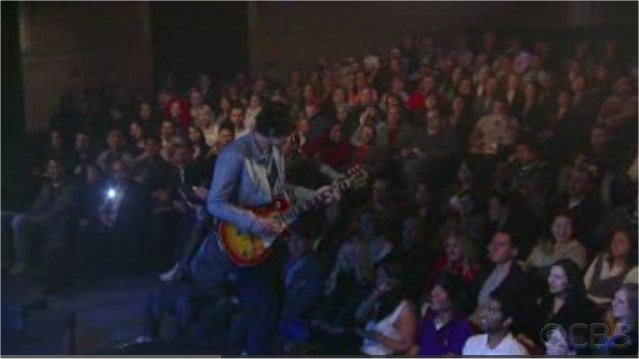 We yelled for Metanoia and Siberian Breaks between songs(and Andrew answers us/mocks us a bit) because Siberian Breaks + Metanoia = 25.60 minutes in heaven but they didn't play it so now I'll never come to another show……no she'll never come to another show;)….Stay tuned for part 2!
hearts, meg