It happened at the World's Fair.
April 22, 2014 marked the anniversary of the NY 1964 World's Fair opening. On this special day for the first time in many years, people were invited to tour the World's Fair Pavilion. My mother and uncle were children in 1964 and Swedish danced at the fair and were photographed in an article in the newspaper for the event. So with my family's connection to the fair and also my own fascination with vintage clothing and local history I had to check it out! So a friend and I embarked on the journey from Eastern Long Island to the fairgrounds in Queens. When we arrived that afternoon we were greeted with the longest line we had ever seen with thousands in attendance just to get a 10 minute peak into the pavilion, donned in construction hats. But we stuck it out, I reveled in sharing the same experience with my friend and strangers, ate some World's Fair waffles from a food truck, took shelter from a rain shower and sometime around 5pm we got in!
Some appropriate music to accompany this post:

It was so fun to get a peak inside 😀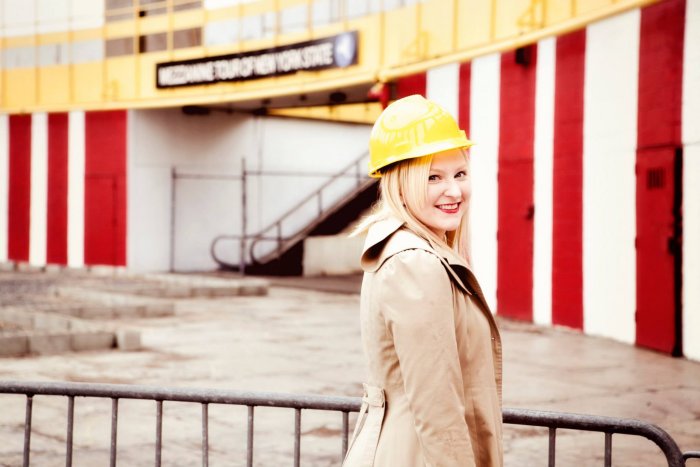 My mom was positive that there wouldn't be any map tiles left in the pavilion, sure and funny enough the first tile I saw had a familiar town:
Wardrobe: 1950's dress – Ebay ♥ Vintage trench coat – thrifted
Except for photo of the line, photography is by Nicolai Patrick
Looking for more 1964 World's Fair fun? Check out this It's A Small World video!
hearts, meg