i wanna rock, ROCK!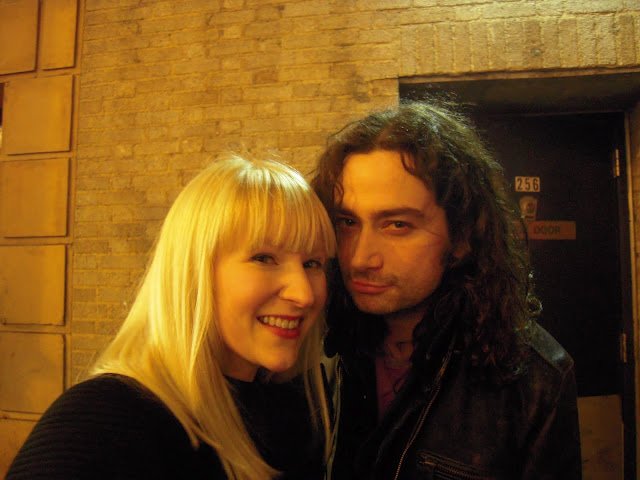 Tuesday night my mother treated me to seeing Rock of Ages at the Brooks Atkinson Theatre in NYC(discount tickets oh yeah!). It was my first Broadway show and it was an appropriate choice for us with all the scantily clad girls, Constantine Maroulis, booze, the 80s LA scene and rock and roll…okay maybe only the second one. My mom and I were big fans of Constantine on American Idol and let me say his voice surely impressed in person!! He was absolutely fantastic and believable in his role.
The main characters were outstanding, the narrator was hilarious especially when running across stage in his underwear, there were actors running down the aisles, throwing things into the audience, waiters serving booze DURING the performance. Everyone involved with the theater and the production seemed to enjoy what they were doing and I thoroughly enjoyed my vodka-cranberries I sipped on during the show albeit expensive. I wasn't even creeped out when an old guy said "Hey" to me as I was going down the stairs. If you are in your 20's you'll love it, the audience is great, drinking and singing and (some) dancing along. If you are fortunate enough to sit in the front row and are a woman, prepare yourself;) My mom and I sat in seats 9 and 11(of course) in Row F on the left side, main floor and we were so close! The theater is really tiny. If we had been over two more seats we would have been able to see both sides of the stage better but I was really happy about how close we were.
After the show I waited outside the stage door and got Kerry Butler(Sherrie), James Carpinello(Stacie Jaxx) and Lauren Molina's(Regina) autographs. After James signed my playbill he looked up at me and said "Hi" it was like he was still in his bad-boy rockstar role. Then after them I took a picture with Constantine Maroulis(Drew)! YES! Internal girly squeels. See picture proof even though I look a little silly. He said he liked my coat and asked me where I live?!!! He was very friendly.
Wardrobe
Vintage coat – picked up at an estate sale and I wear it all the time
Carnival print dress – can't see it but I was wearing my new Anna Sui for Anthropologie dress which I will be posting about at a later date.
The songs from the show are still singing in my head:)
hearts, meg