Darling so it goes, some things are meant to be.
The end of May marked my favorite time of the year: Lake George ELVISFEST!!! After having such a blast at my first 'fest
last year
, nothing was going to stop me from a weekend with the king! 😉 This year was even more special to me because not only was it the *11*th(my favorite number) Annual Lake George Elvisfest but I was also single this time around and was enthused to be in a sea of Elvis' and show my mother a really fun birthday weekend!
"While the moon is on the sea, the night is young and so are we…."
The weekend started for us with a cruise around Lake George with live performances from Elvis Tribute Artist's(ETA'S) Dwight Icenhower, Oliver Steinhoff and a surprise performance from a Japanese Elvis. Read the following in your head as cheesy as possible because I am a cheeseball: I was barely one foot on the boat and as my eyes adjusted from the sun outside to the more dimly lit boat, I saw Dwights face through the light and my mind thought I was staring at Mr. Presley himself, my heart raced, then later he performed and I was hooked 😉
Before boarding the boat:

Dwight: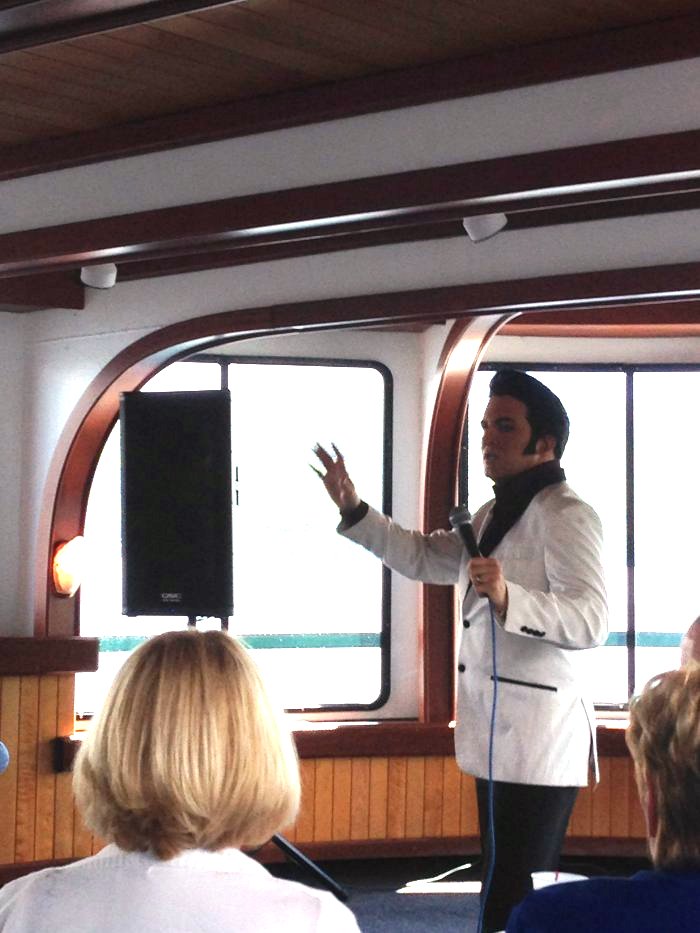 Oliver:
Singing together ♥:
After the show and cruise I was so excited to meet Dwight! But please ignore my DUR I blinked face and check out his stunning suit jacket instead:
Wardrobe: Blouse – Forever 21 ♥ Flower Hair Clip – made my me ♥ Earrings – 1950s vintage clip-ons ♥ Bangle – vintage ♥ Sunglasses – Muggler ♥ Denim Jacket – thrifted, dyed by me ♥ Hawaiian Skirt – 1950s vintage
Saturday marked an early afternoon of Elvis performers at my favorite lakeside restaurant and a night of ETA performances.
I was all dolled up and set to Elvis paradise with my new Blue Hawaii Elvis dress my Mom and I made:

When I got to the restaurant something really crazy, awesome happened! I met one of the few guys at EF that was dressed up and wasn't an Elvis performer and happened to be wearing Elvis' ensemble from the very same movie I was advertising on my dress! Plus he was handsome and wanted a photo with me?! Be still my heart! 😉
After dinner and a performer serenading my mother while I was in the ladies room, I had some time to kill before the show so I played a few rounds of my favorite pinball machine and naturally had to take a pic:
I didn't take many or any good photos at the evening performance but it was a blast! Like the year before and sometimes when driving home alone at night, I turned into a complete sap and balled my eyes out at my favorite Elvis song "Can't Help Falling in Love" being performed. After the performances my Mom and I headed for the after party and I was pleased to see the same Elvis performer as last year there rocking out. But I was most delighted to dance with a certain "Elvis."
One more photo with an Elvis before Meg left the building 😉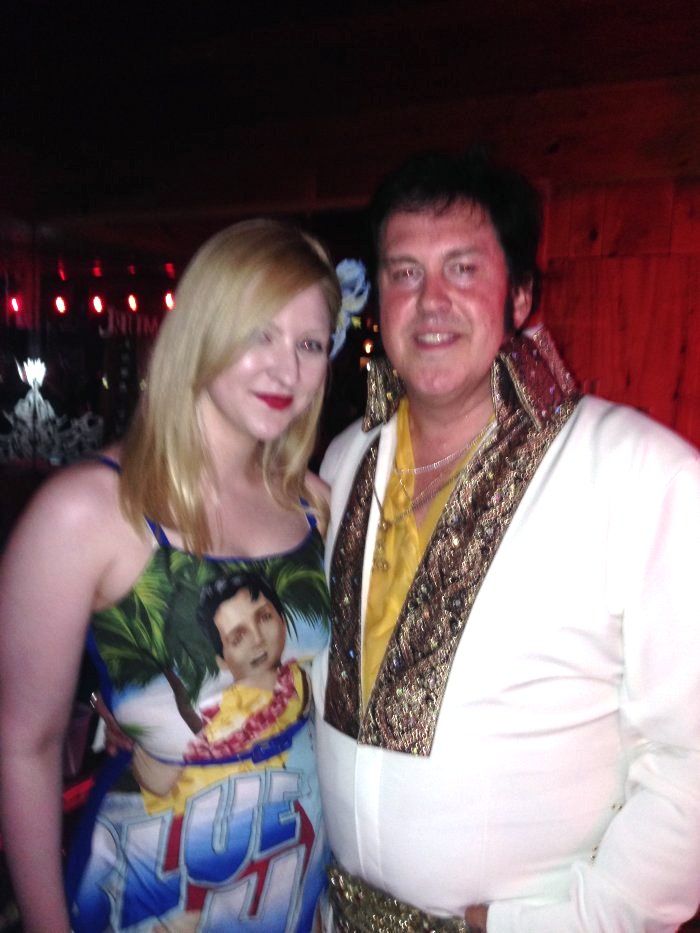 Wardrobe: Blue Hawaii Elvis Dress – designed by me, made by my Mom ♥ Denim Jacket – thrifted, dyed by me ♥ Blue Belt – Forever 21 ♥ Flower Hair Clip – made my me ♥ Earrings – 1950s vintage ♥ Flats – H&M ♥ Purse – 1980s vintage ♥ Sunglasses – Persol
I wish that night and weekend could go on forever, I had so much fun! Thank goddess for Elvis Presley and his music, loyal fans, tribute artists and my mama! Elvisfest 2014 was an absolute blast! Saw familiar faces and Elvis', made new friends to see again next year and woke up in Hawaiian hangover city the next day. Don't tell my Dad my Mom and I stayed out till 3 AM after the show but she did confess to me "you keep me young I'd be old without you." I am officially hooked on Elvisfest!
hearts, meg
ps. I got quite a few compliments on my dress and one gal told me I should make and sell them but unfortunately the availability of the fabric is too limited, small in size and costly. BUT stay tuned as I have other Elvis ideas in the works, Mama! 😉