It was just a regular day, going to the auto shop to pick up my car after some routine maintenance. I remembered that they had been working on a pink Cadillac the week before and wanted to sneak a peak before I left…
Dad: Where's the pink Cadillac my daughter wanted to look at it
Cashier: It's in the back. A Elvis looking guy came in yesterday and I was like we have your…
Me: WHAT'S HIS NUMBER?!
Later I had my mind blown and was not only brought in the back to look at it up close, but she offered to snap photos of me posing with it and INSIDE!! I was beaming ear to ear just looking inside it but actually being inside, brought tears to my eyes and I got very emotional OOPS! Sure its just a car, but after loving 1950's cars my entire life, it was actually the first time I had been inside one! Afterwards when I returned to my own modern car with my fuzzy turquoise dice hanging, I turned on my Sirius XM app with 50's on 5 and was not even out of the parking lot when I heard the lyric "Cadillac" sung. I then began to think about how awesome it was to sit in the same style car Elvis had and that I thought Ritchie Valens had a Cadillac in one of my favorite movies growing up, La Bamba. So what was the next song that came on? Ritchie Valens of course! I later learned that it was a Ford Thunderbird but I don't take those little coincidences for granted 😀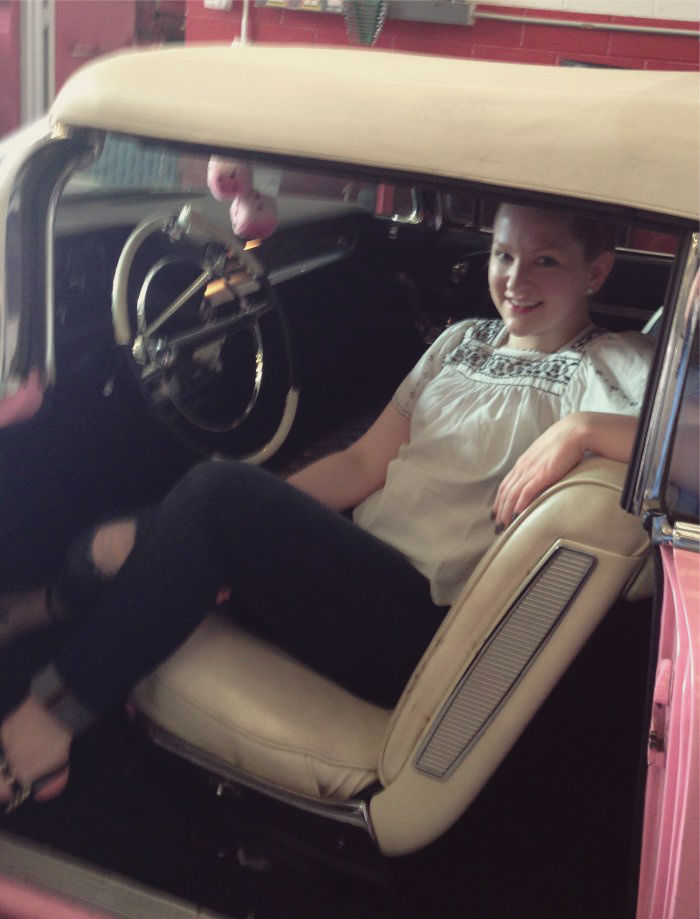 Wardrobe: Peasant Top – 1940's vintage ♥ High Waisted Jeans – Victoria's Secret ♥ Sandals – Anthropologie
hearts, meg