but this is not a gift for an ordinary girl who takes care of a screaming baby.
This Halloween I was transformed from a vintage loving gal into the fantastical, magical, sexy, sinister Goblin King, Jareth from the 1986 movie Labyrinth. In the film Jareth is played by the incomparable David Bowie. Labyrinth has always been one of my favorite movies but I was never the girl watching it wishing I was Sarah, I always wanted to be Jareth(although if I was Sarah, I would have been his Queen). He held the power, he had killer outfits and he taught a 7 year old me what boys have and girls do not(it was the tight pants of course). For years I have wanted to dress up as Jareth for Halloween and this year I finally did it and boy did I have fun!
I laughed, I pranced, I danced like Jareth, I WAS Jareth for the night and I stuffed a sock in my pants(not seen here as it was a bit risque). I'm such a nerd that I even changed my rings tones to "Within You" for when my boyfriend called me during the week of Halloween and "Magic Dance" for everyone else. Besides having the best Halloween to date, I won second place in the costume contest at The Alligator Lounge in Brooklyn, they even played "Magic Dance" for me and I got up and danced a little. Apparently the guy told me I won because I was "hot" which is weird for a guy to say to me dressed as a guy with a sock..but it was nice to be recognized and to get free drinks for me and my friends!
even toby was there!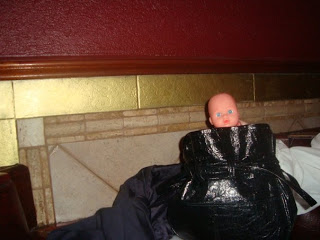 I really had a lot of fun going wild with my makeup and hair!
Wardrobe: White Blouse – Vintage shirt from my mom Lace fabric at wrist with holes – Made by me using a damaged thrift store blouse that was otherwise going to be garbage food. I simply attached it to the blouse. Vest – made by my mom using a victorian pattern. Gloves – Target Tights(worn under pants for smoothness and more warmth, they were even gray, not that they can be seen) – Target premium tights. Pants – In the words of Carles, Am Appy. Boots – Nine West piratey boots Replica of Jareths Necklace – Emma Dream Star, Etsy Toby – Dollar store and a red fabric pen to draw stripes as I couldn't find pajamas. Purse(wait, boys dont wear purses!) – Vintage, website.
hearts, meg
ps. I am available for birthday parties!