beary interesting.
…See what I did there? Like my bear interpretation up there? Who wears white after Labor Day? I do! Whats that orange orb on my pictures? I have no idea!
I've had this dress since 2005 I believe and it is hands down the WEIRDEST, WACKIEST dress I own. I mean who else can say they have a vintage dress with hand-painted fishing bears on it with rhinestones for eyes? What made me buy this? I don't know I was obsessed with buying all my clothes off of Ebay at the time and I guess I'm just the kinda girl that is crazy enough to wear a dress with fishing bears on it. I don't think it will serve me well in the attracting men department(who cares anyway) but I'm sure some 5 year olds and my niece would think I'm the s*it because she loves her Little Bear and the word "interesting." I got the urge to wear it again after my days spent in the Adirondacks of upstate NY and upon seeing wood carvings of bears doing pretty much anything you can think of.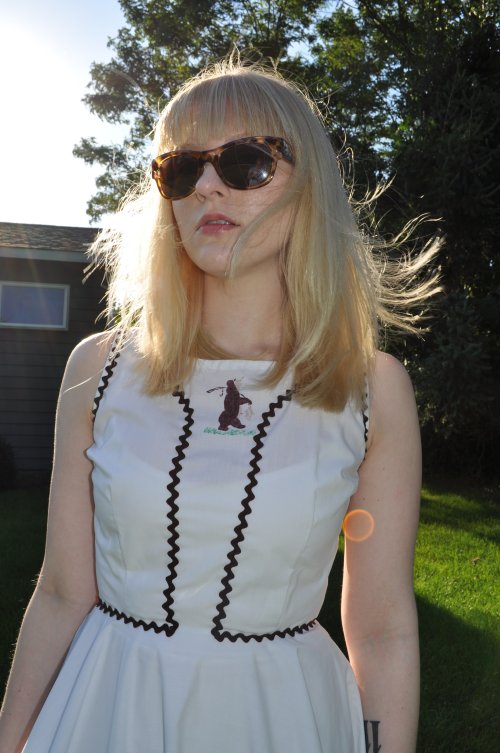 Wardrobe
Vintage 60s Hand-Painted Dress
– Ebay
Black Flats
– Urban Outfitters(I've gone through almost as much as these as I do sunglasses)
Sunglasses
– F21
hearts, meg
ps. My mom is so cute she was like "aw we're taking pictures in the backyard like old times" if you followed me through my Drop Your Drawers days you'll know what she means by that. And my domain just expired so RIP dropyourdrawers.net hopefully you won't become a dirty website.