as happy as pappy with his trains.
This summer a railroad attraction opened up near where I vacation in upstate, NY. Once I heard that Railroads On Parade existed I knew I had to go after visiting
Roadside America
in 2009. So I popped on the vintage train printed dress I fatefully packed and took my cheesy dressed self off to be swept away for an hour to see some miniature trains and miniature people.
Roll over photos for commentary.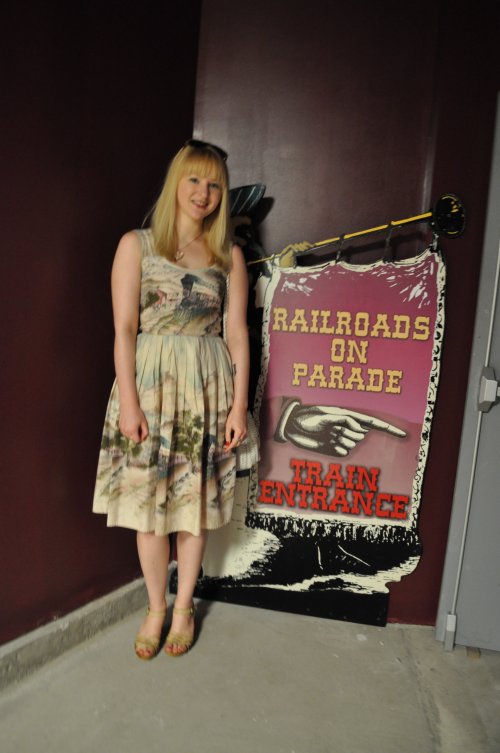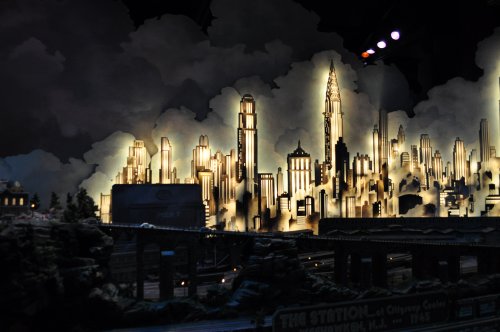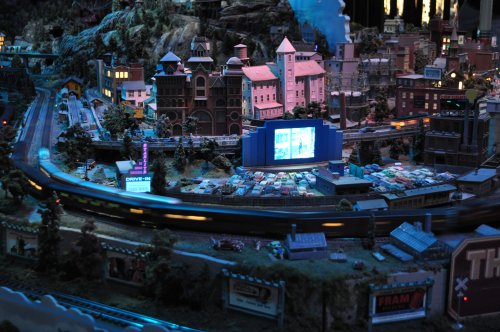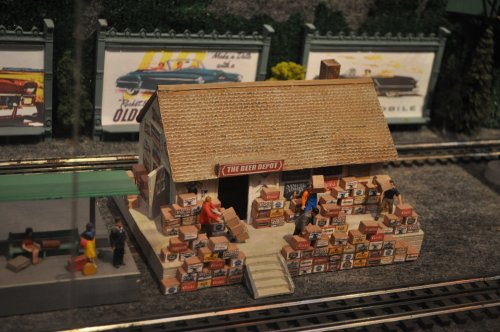 I also took video of the carnival scene shown below and the drive-in scene here

I wasn't expecting much from a small town in Pottersville, NY but Railroads On Parade exceeded my expectations and proved to be enjoyable(which I should have known because after all some of the people of Pottersville contributed to Frontiertown which is one of my favorite vintage amusement parks). I am so thrilled that there are still people around today putting things out there like this into the world, there aren't many places left to just go and enjoy and be carefree and there aren't many places out there that can truly inspire children but this is one of them. Things I liked about it were the scenes themselves, the details like the moving pony ride, the light up advertisements, the drive-in theater and when the people would move and there was a lot of room around the exhibits to move and look around. Something I didn't like were the lights constantly turning off and changing to night so often. That's one of things Roadside America got right with only turning the lights off every 10 minutes or so, not to mention the cheesy part I loveee with the music afterwards and the Jesus projection on the wall. If you are ever in the Adirondack NY area check out Railroads on Parade!
Wardrobe
Train print dress – vintage
Wooden heels – Mod Cloth, but despite my positive review I would no longer recommend them unless you will only walk in them indoors. Apparently when I walked a few minutes on some gravel, the little rocks dug themselves into the wooden soles despite there being a grooved layer on the bottom of them…I have to get them fixed now which is why I should have just saved for the Swedish Hasbeens.
White wicker purse – vintage
hearts, meg