A Tangle of Blonde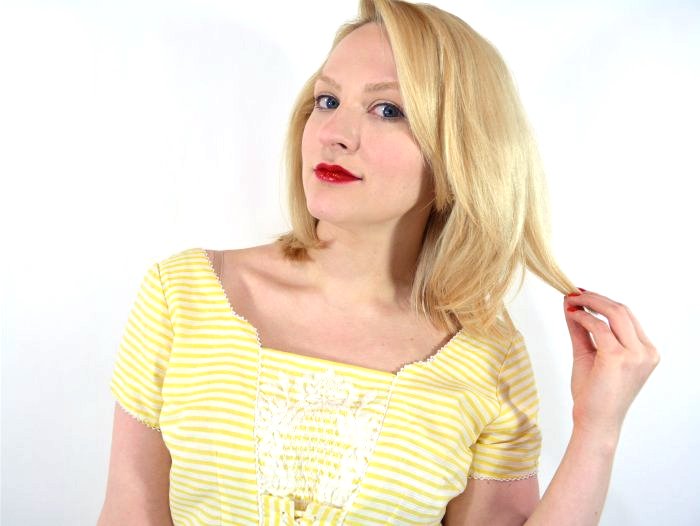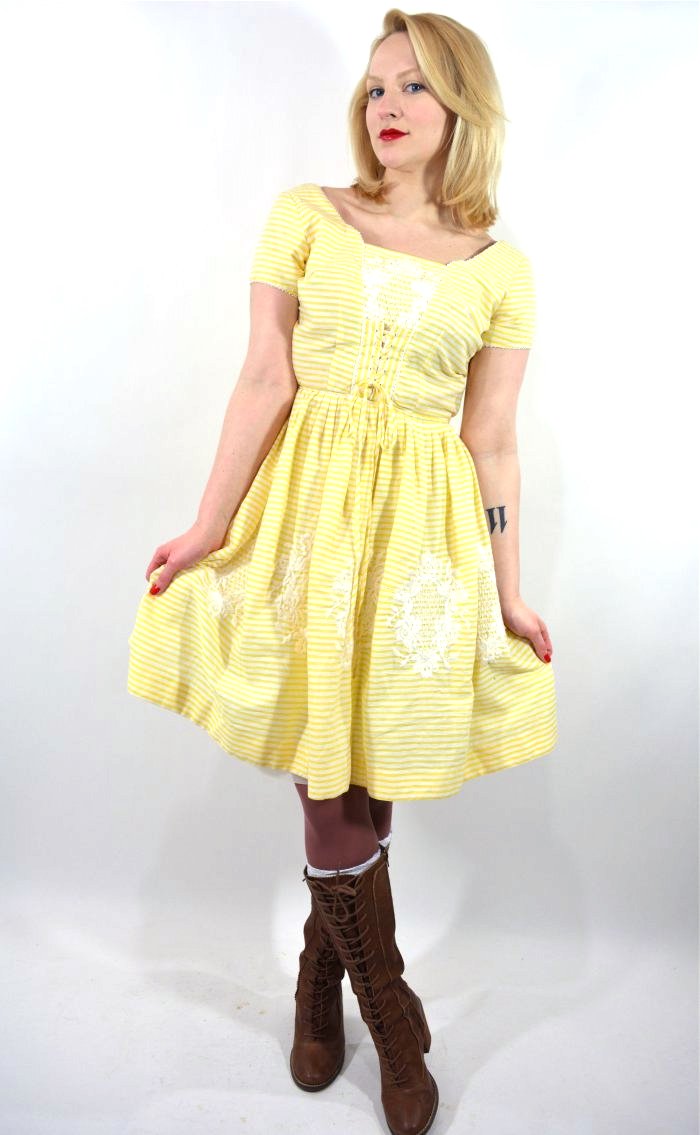 The discovery of this yellow vintage dress was one I will never forget. My mom and I stumbled upon an estate sale 40 minutes before closing time and I entered a bedroom where time had clearly stopped and everything was vintage. I was in absolute heaven. I grabbed everything between a vintage corset, kids Hop-along Cassidy gloves and 2 new with tag 1950's floral blouses one for me and
one for you
. I was on a mad dash filling boxes with vintage everything and had only minutes left when I discovered there was a basement. That basement is where I spotted this yellow striped beauty on a pile of crap. The basement appeared to have been flooded and the vintage items that encompassed it left to rot long after the water was pumped out. But despite the skirt looking absolutely disgusting and covered in so many brown spots I decided to take a chance on her and PEELED her off the pile. My mother lovingly gave it so many trials of elbow grease and treatments and at one point I thought the embroidery was ruined but she pressed on and now its in near perfect condition with a small spot on the bodice as a reminder of where she had been and what she went through.
Like my dress, I've been through a healthy amount of struggle in my life and i've had this blog forever it seems but realized recently that I have never really written anything personal at all. So I have decided that I am going to share a more personal story, in hopes that someone may read it and get inspired like I did and have..
I had a goal this summer to do everything in my power to get healthy, hopefully loose some weight but ultimately to have any affect on my body once-so-ever. You see, I was diagnosed with hypothyroidism a few years ago and ever since my body has not worked properly. The medication is supposed to make your hair stop falling out and thinning, its supposed to make you lose any weight you would have gained due to the hormonal imbalances and take away the soul crushing fatigue you experience(LOL). So I began medication but after a few months I would begin to have symptoms again and I would switch from brand to brand to brand, every time I did so, I would pack on 5-10 pounds which only caused me to feel worse. Of course, I would bring any and all changes up to my thyroid doctor or to the assistant whomever I could get an appointment with and I remember once breaking down in the office, uncontrollably crying because my body wasn't working correctly, hormones clearly all over the place and I was so frustrated and tired of going there, of not *really* being heard and having to be my own doctor.
Sometimes you are your best doctor though, I knew my body was sick and I realized the medication wasn't the cure. Not to be too metaphysical, but I will be ;), so this summer I asked the universe for help. For as long as I can remember, bread has not been my friend. I remember going to a sleepover in Elementary school and being upset that the girls Mom had bought delicious Long Island bagels in the morning because whenever I ate one it sat like a brick in my stomach. I had gone on trials of being gluten free and I always felt better when I did it as most thyroid patients report but it wasn't it. I was searching for those answers one night online and I came up with an article on "bacterial overload" and related to some of the symptoms outlined. It also mentioned something called "yeast overload." A few days later I was out to dinner with friends at at Italian restaurant in NYC and I ordered the chicken parmigiana meal because I wasn't eating bread/pasta at that time. I was discussing with my friends that I wasn't eating bread that night because it always bothered me but that I had been tested and didn't have celiacs disease, but could just be sensitive to it. My friend, my beautiful, Irene I will never forget said "maybe its not the gluten, maybe its the yeast." Despite the happy hour sangria's that really stuck with me and reminded me of that little research I had done previously and because she said that, the next day I went and looked more into it. I didn't get to far into my research of reading about yeast overload that it is suspected to cause none other than hypothyroidism. It was like lightening was going off when I read that and I just had this overwhelming feeling of YES, this is the answer I was waiting for.
From that research, I looked up books on Amazon to further my learning and ended up purchasing a few including Dr. Junger's Clean Gut. I quickly read through the book in August, learning how the gut affects the entire body and planned to do the clean-gut cleanse outlined in the book. Well, I procrastinated with the diet a little, planning to do it after my last Summer vacation upstate, but before my last trip in October. I had a goal in place to make myself and my health a priority and in September I had 2 days being sugar, caffeine and dairy-free and it was surprisingly easy for me. But on the 3rd day I was so in my in my head, headachey and sick feeling that my sister pointed out that it was probably the lack of caffeine causing it. I never realized how powerful a drug caffeine really was until it was driving me insane! So regretfully I introduced it back into my diet and one summer night I caved and ate some watermelon. But guess what, it tasted SO very sweet, too sweet to my innocent taste-buds! After making a few more revisions to the cleanse with the caffeine and then adding yogurt to my morning smoothie I was digesting normally and regularly for the first time in years. A little after I started the cleanse, I noticed a patch of hair on each side of my hairline, hair I didn't even know I had lost was growing back and it was immensely satisfying to see my progress not only internally but externally.
I still follow many of Dr. Junger's tips today, I am dairy free except for yogurt and organic half and half in my coffee, I use Stevia to sweeten my coffee, I have gluten and GMO free cereal once a week, I have berry and veggie smoothies for breakfast most days, salads for lunch and hormone free meat in my salad and at dinner with vegetables no rice and no bread. I also take vitamins and try to exercise at least 4 nights a week. I am proud to say that my efforts paid off after a little over a month of eating healthy and I lost 10 pounds. It was also a secret goal to myself that if I accomplished making a change on my body that I would cut my hair short for the first time in maybe 7 years and so I did a few weeks ago! I was so scared and nervous to cut my hair, with thyroid disease I had this fear that it could never grow back or be the same again, but I took the plunge and its so silly because its just hair but I feel more inspired by it and inspired about getting dressed again!
So like the vintage dress in the basement, you hold the power to rescue yourself, make a change and reinvent yourself, kiddo ;). You can certainly do anything you set your mind to and once again ask and you may begin to receive. ❤️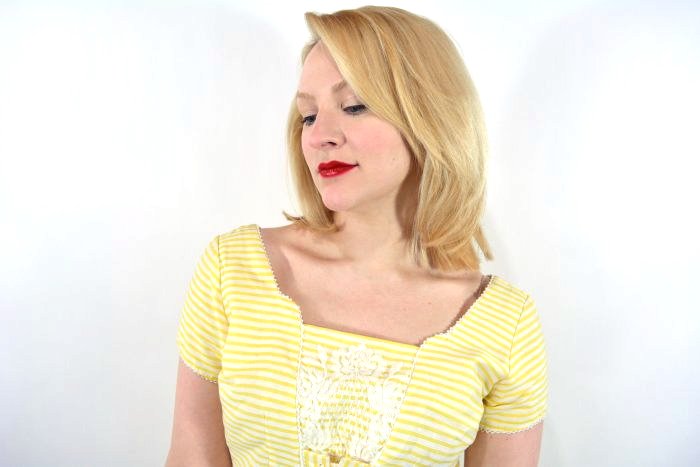 Wardrobe:
Dress
– vintage ♥
Earrings
– vintage ♥
Tights
– Target ♥
Knee-High's
– Gosh I have had these..Forever 21 ♥
Boots
– Seychelles
hearts, meg
Ps. If you reached this far, thank you immensely for reading. If you would like to contact me personally to discuss anything I wrote, my emails over there ↣ on the right side of the page. But disclaimer, I am only a doctor for myself 😉 legal babel, consult a doctor before starting any cleanse or diet.