2009 summer road trip: knoebels
Our favorite park overall was Knoebels. It was a bit of a hike to get there but once we did we were impressed with its low-key amusement park surroundings and the friendly people. Its not the most glamorous park with designed walkways and landscaping but where this park lacked in glamor, it was packed with heart. Unfortunately I did not take pictures of the rides at this park but I will go over some of my favorites with pictures from Knoebels website and Google.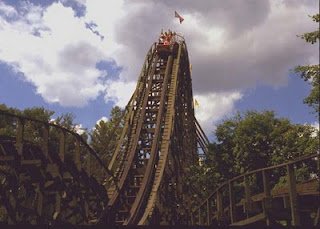 Phoenix Roller coaster
– The Phoenix is a roller-coaster that looks handmade by someone that woke up one Saturday morning and said "Imma gonna build a rollercoaster." Now this obviously isn't true but the mechanics of this ride are almost medieval and incite danger through your mind as you are riding. 90% of the ride I was airborne, my butt was not on that seat and I was fearful for the child in-front of me who obviously weighs less and could easily fall out. Needless to say, I loved it.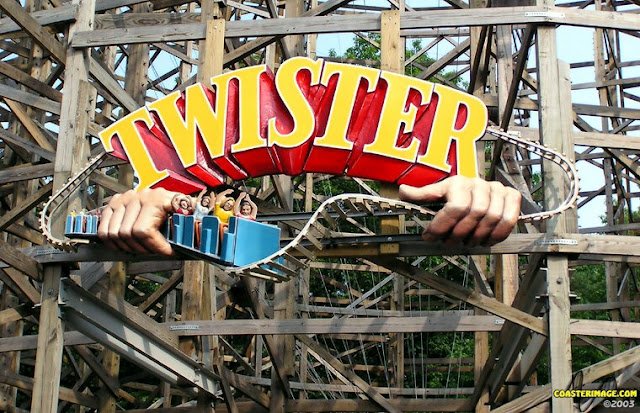 The Twister Roller coaster
– This is the craziest most beautiful wooden roller coaster I have ever laid my eyes upon its just absolutely gorgeous! The craftsmanship that must have gone into this ride must have taken years of intricate work.
Ole Smokey Train – You could tell the conductor loves his job and I really appreciated that. I hope to bring my future little ones there someday.
Haunted House
– Knoebels has come up with a fantastic dark ride that blends stunts of the past with those of the present and more advanced. The exterior building is fantastic and sets the mood for the fun and fright awaiting inside. I have to say this one actually scared me a little. There is one "attic" scene and the masks in that room I couldn't look in the eye! We rode this 3 times when we visited.
Antique Cars – This was the longest antique car ride I have ever been on and it was a nice leisurely break.
The Carousel Museum – Antique carousel horses including the wooden and hand-carved. I bought a t-shirt in the gift shop attached because I loved the park so much. I like to give whatever little support I can give to what I love!
I can't wait to go back here specially with the addition of Flying Turns and Black Diamond(formerly The Golden Nugget)!
Photo sources: Google
hearts, meg