2009 summer road trip: kennywood
We were really looking forward to this bigger and more well-known amusement park. I also kept in mind that Adventureland the movie based on the Long Island amusement park was mostly shot here and looked for places where they shot scenes of the movie. From the hotel we were staying at to West Mifflin, PA took hours driving along farmland, windy highways through mountains that scared me to hilly, city roads. When we finally arrived and parked, it was a hot sunny day and we were ready to have fun.
Garfield's Nightmare
(formerly The Old Mill) – This is the first ride we went on at Kennywood and was about the same quality of Six Flags job over in Jungleland in Great Escape. They took a fantastic looking historic dark-ride, took out all the charm and sets and put up enlarged, neon colored, comic-book pictures of Garfield that I could have printed at Kinko's and slapped on some wood backing. That's the ride. Oh and there's I think one room where they actually constructed a Garfield structure and a lasagna or something…we were sure to look EXTRA bored during the photo-op on the ride in-case anyone scans through the photos for quality control.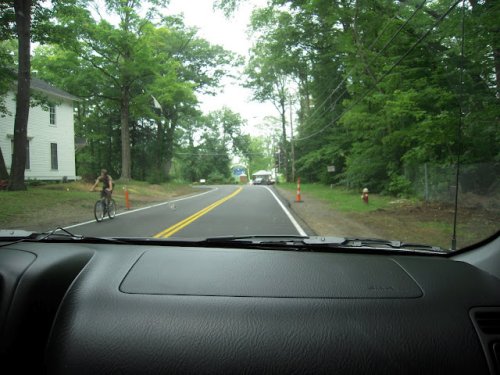 The Whip
– It's crazy to think, but I have never actually rode on a whip ride until Kennywood! There weren't any on Long Island and certainly wasn't one at Great Escape. The Whip at Kennywood was outside although I know some places have them enclosed. It was such a simple ride but I found it classically romantic.
The Exterminator
– This is a dark ride/indoor wild-mouse coaster DONE RIGHT! I absolutely loved this ride even though they had the typical annoying Six Flags/Disney-esk queue lines of being hurdled off into different rooms before riding. The main room had pipes on the wall that appeared to have been recycled and real which was nice, but no TVs explaining the ride or a storyline, just an indoor hot room to stand in. But if there were TVs explaining a storyline they probably would have had them constantly running like The Haunted Mansion which would have been more infuriating. Once we got on the ride however I could not stop laughing, spinning around going uphill laughing at a line that one of the exterminators shouts down at you(I wish I could remember what it said, I was laughing because it sounded dirty). I couldn't see anything really just felt the assault on my body of being whipped around in the dark and I liked it.
Thunderbolt
– This classic wooden coaster had a great surprise for us first time riders after being immediately being thrust down hill after leaving the station.
Racer
– The day we visited unfortunately was the day where local High Schools were having parades throughout the park. But we managed to meander our way through the crowds and to the Racer so we could ride before we had to be heading out to get back to the hotel. Well we made it through and we got to ride the coaster 2 times before they decided to stop running it because the parade was going to be going by. I loved this classic coaster that had two separate tracks red and blue that would "race" each other down the matching tracks. While reaching the top of the first plunge it is customary to point and give dirty looks to the other side.
Jack Rabbit
– A cute, sweet first wooden roller-coaster for children.
Noahs Ark
– Once again another incredibly long wait to ride this but it was worth it. Once we were allowed in I felt somewhat rushed walking through the attraction with tons of people in-front and behind me. This ride has obviously gone through many transformations since 1936 but many of the vintage and kooky elements were left intact. I was shocked about how wobbly you get walking around when the boat is moving and you have to walk down stairs and such, they would never be able to make this ride today and I loved it more for that. Unfortunately my experience in the last scene/stunt through this vintage walk-through was somewhat ruined because of children screaming and yelling which left me unable to hear what the voice was saying over the speaker as we were being "flooded" with water. Children should be polite and listen to the story! Hopefully I'll have the chance to ride again sometime soon though.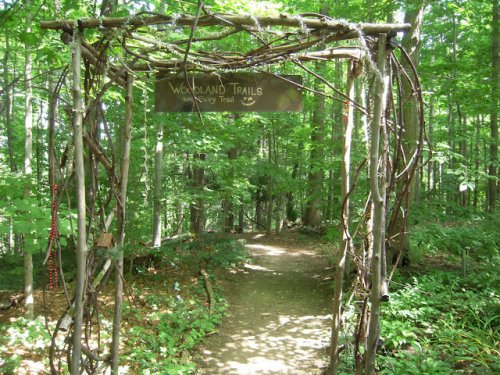 Ghostwood Estate
(formely The Gold Rusher) – If you have A.D.D. in my opinion you should NOT ride this ride. There are so many things to look at in this "shoot the ghost" dark ride that your head will be spinning upon 2 seconds of entering this ride at least mine was and it was also very noisy. And according to my fabric teacher in college, all of us New Yorkers(except upstate that's different) have A.D.D. The day we went this ride was tremendously crowded and it was NOT worth the wait. My ghost shooting device didn't work so Ben automatically won and it was basically a room with EVERY stunt and statue I have seen at Bayville Scream Park and at every other Halloween haunted houses and probably every prop for sale at those Halloween conventions shoved into a ride with green targets over their heads to shoot to gain points. I wasn't impressed, scared or blown away, I was just annoyed that the exterior and hype didn't match the product. I would have taken 10 rides on The Gold Rusher over my one on this.
Phantoms Revenge
– We were so lucky at Kennywood the day we visited that 2 rides before we were set to go on someone vomited! So we took the option of waiting it out for over a half-hour and smelling the you-know-what the whole time as we waited to ride. By the time we finally were set to ride I too was afraid I would vomit and have a Chunk inspired reaction. As we were about to descend upon the first major plunge, I thought I was going to die, I have never been so scared on a roller-coaster as Phantoms Revenge. But of course it was fun cutting through the bottom of the Thunderbolt and feeling like my head would be removed from my body.
After the park we visited Dairy Queen for some delicious junk foods and I got to finally have a girl scouts thin-mint cookie blizzard which i had about 10 bites from and then could not finish but it was delicious. Since we don't live by a Dairy Queen this was very exciting for us. We also wanted to stop at the only drive-thru strip-club in the U.S.(you heard me!) to take pictures but we couldn't get directions to it and the navigation didn't have that listing.

Since visiting Kennywood I have learned that one of my heroes, Charley Wood's daughter and her husband worked for the park at some point and I'd like to think that they wouldn't have let the Old Mill ride and the Gold Rusher get remodeled since they were certainly better left alone. I'm sad that this occurred either way and thought that with Kennywoods affection with honoring history they would have also preserved those rides.
Photo sources(other than the last two): Google
hearts, meg